Study of Professor Usha Haley
Usha Haley is a Professor of Management and Director of the Robbins Center for Global Business and Strategy, West Virginia University.  She blogs on business and government in China, India and other emerging markets as well as on international trade.
Her newest book is titled "Subsidies to Chinese Industry – State Capitalism, Business Strategy and Trade Policy" and can be purchased here.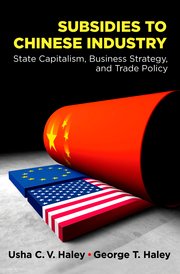 To give an insight into her book, Usha Haley also wrote an article on "How Chinese Subsidies Changed the World" in the Huffington Post on July 8, 2013. The full article can be found here.
Merics "Made in China 2025 – The Making of a High-Tech Superpower and Consequences for Industrial Countries"
The Mercator Institute for China Studies (merics) published this paper in December 2016.
Here a brief summary provided on their website:
China has launched a high-tech revolution: Beijing has devised an industrial masterplan named "Made in China 2025" and is investing billions to turn China into one of the leading industrial countries by 2049. In 2015, Beijing initiated a master plan called "Made in China 2025", aimed at turning the country into a production hub for high-tech products within the next few decades. According to the plan, the domestic market share of Chinese suppliers for "basic core components and important basic materials" is intended to increase to 70 per cent by 2025.
China strives for market leadership in main growth areas for a large number of industrial countries. Information technology, computerised machines, robots, energy-saving vehicles, medical devices as well as high-tech equipment for aerospace technology, maritime and rail transport are in the focus of the major industrial revamp called "Made in China 2025."
As the latest MERICS Paper on China shows, China's ambitious strategy is starting to bear fruit. Industrial countries like Germany and the United States have to be prepared for strong competition.
EUCCC "China Manufacturing 2025: Putting Industrial Policy Ahead of Market Forces"
The European Chamber of Commerce (EUCCC) published this report in February 2017 to analyze the potential impact of the China Manufacturing 2025 (CM2025) initiative on both European business and China's economy. This is accomplished through a review of the initiatives goals, which include achieving domestic and international market-share targets in ten industries, attaining self-reliance for key components and turning the concept of 'indigenous innovation' into reality. It also focuses on five of the ten industries covered by CM2025, including new energy vehicles, industrial robotics and semiconductors, and outlines the consequences of government intervention in these sectors.
The report can be accessed here.
ECFR "China at the Gates: A New Power Audit of EU-China Relations"
The European Council on Foreign Relations (ECFR) published this article in December 2017 providing the brief summary below.
Since 2009, the time of the European Co.uncil on Foreign Relations' first Power Audit, China has become more present and influential within Europe. This is no longer only about a massive trade surplus; it is also about investment, lending, and financial power which serves China's public diplomacy. What has not changed is the asymmetry claimed by China as a developing economy, even as it reaches the first rank among global economies. And it explains the increasing quest for reciprocity by Europeans.
China practises "pick and choose" in its relations with the European Union, focusing on its direct interests, and often ignoring EU norms in its proposals. It has vastly increased efforts to strengthen bilateral relations with member states, putting special emphasis on Europe's periphery. China holds its own summit with central and eastern European nations, the so-called 16+1, and it seized the opportunity of the euro crisis for massive takeovers in southern Europe. Fascinatingly, its offers and their packaging are not very different from those offered to African and other developing nations: a flurry of projects creating competition among recipients, loans at commercial rates, and a strong insistence on identical statements and agreements.
China is now inside Europe. Its soft power diplomacy relies on repetitive and positive messages. There is a gold rush by some European figures, while many companies, media groups, and universities seek to protect their access to the Chinese market.
The whole article can be accessed here.
USTR "2017 Report to Congress on China's WTO Compliance"
The United States Trade Representative (USTR) published this report in January 2018 to focus on the following topic:
After its accession to the World Trade Organization (WTO) in 2001, China was supposed to revise hundreds of laws, regulations and other measures to bring them into conformity with its WTO obligations, as required by the terms set forth in its Protocol of Accession. U.S. policymakers hoped that the terms
set forth in China's Protocol of Accession would dismantle existing state-led policies and practices that were incompatible with an international trading
system expressly based on open, market-oriented policies and rooted in the principles of nondiscrimination, market access, reciprocity, fairness and transparency. But those hopes were disappointed. China largely remains a state-led economy today, and the United States and other trading partners continue to encounter serious problems with China's trade regime. Meanwhile,
China has used the imprimatur of WTO membership to become a dominant player in international trade. Given these facts, it seems clear that the United
States erred in supporting China's entry into the WTO on terms that have proven to be ineffective in securing China's embrace of an open, market-oriented trade regime.
The complete report can be found here.
Merics and GPPi "Authoritarian Advance: Responding to China's growing Political Influence in Europe"
The Mercator Institute of China Studies (merics) together with the Global Public Policy Institute (GPPi) published this paper in February 2018 to show that China's rapidly increasing political influencing efforts in Europe and the self-confident promotion of its authoritarian ideals pose a significant challenge to liberal democracy as well as Europe's values and interests. While Beijing's efforts have received much less scrutiny than the efforts of Putin's Russia, Europe neglects China's increasing influence at its own peril. Drawing on its economic strength and a Chinese Communist Party (CCP) apparatus that is geared towards strategically building stocks of influence across the globe, Beijing's political influencing efforts in Europe are bound to be much more consequential in the medium- to long-term future than those of the Kremlin.
The paper can be accessed here.